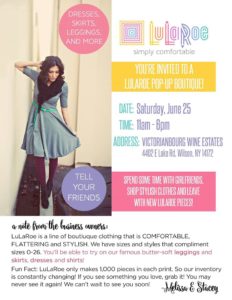 Fashion and Wine unite in a fun filled Sip and Shop event at Victorianbourg Wine Estate. Prepare to shop until you drop while enjoying some of your Victorianbourg favorites!
We will be hosting the boutique woman's clothing line LuLaRoe for a day of fun, fashion, and wine…could a day be more perfect? Shop Lularoe's fabulous collection of COMFORTABLE, FLATTERING, and STYISH leggings, skirts, dresses, and shirts while sipping a delicious glass of Victorianbourg Wine. Not only will you be able to browse the collection, but you will be able to try items on to help you pick your favorite pieces.
For those unfamiliar with LuLaRoe, their collection has sizes and styles that compliment ladies who wear sizes 0-26, furthermore the clothing is made in a famous butter-soft material that is truly a pleasure to wear. The best part is, if you love it…you can wear it home 😉 .
For the event we will be serving the winning cocktails from our Crazy Cocktail Night event.!
Can't wait to see you there!