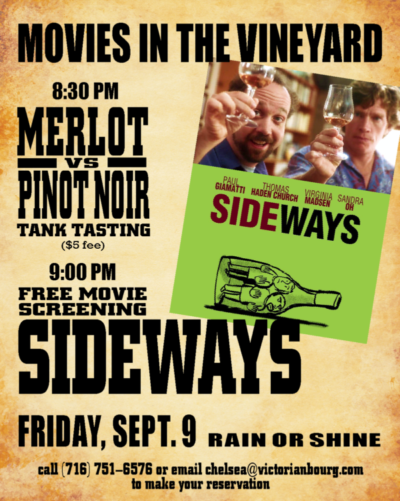 Our September FREE Movies in the Vineyard is Sideways. Join us for this amusing tale of a prospective groom sewing his wild oats in the beautiful wine country of Santa Barbara, and laugh at the highly entertaining battle between Merlot and Pinot Noir that is the main sub-plot of the movie.
The movie is free, but for even more fun and excitement come to our pre-screening party where we will re-create the battle between the wines by doing a tank tasting of Victorianbourg's 2015 Pinot Noir and Merlot. Taste wines directly from their tanks before they are bottled! You decide the winning variety. Enjoy both wines with our charcuterie and cheese pairing.Tickets to attend the pre-screening party are $5.
Our Movies in the Vineyard series is a must see! For all of our customers who love wine just as much as we do we have created a movie series where each film showcases breathtaking vineyards, wineries, and of course wine! Relax and unwind as you escape into the on-screen world of wine and winemaking while sitting under the stars surrounded by Victorianbourg's vineyards and rose gardens. Glasses and bottles of wine will be available for purchase so you can sip along with the characters in each film. Furthermore, the series covers a wide variety of genres ranging from horror to romance to comedy, so there is something for everyone. The best part is the screenings are free and all are welcome to attend! As a kick off to each film we will be hosting a pre-screening party where snacks and wine will be available. This is a rain or shine event…if we can't screen the film outside we will move indoors. We hope you can make it!
**NB: for last month's screening of Bottle Shock we were at full capacity, which was really exciting! We highly recommend calling and reserving you spot ahead of time to guarantee your spot for the Sideways screening by calling the winery at 716-751-6576 or emailing chelsea@victorianbourg.com**
Date:
Friday, September 9th, 2016
Time:
Prescreening Party 8:30-9
Screening begins @ 9
Location:
Victorianbourg Wine Estate
* Limited seating available lawn chairs welcome!